The emergence of podcasting has led to the birth of a dedicated medium that's allowed people to listen to shows that spark their interest, may it be for entertainment or to gain more knowledge on specific subject matters. The moment people realized that they can absorb an immense amount of content in less time, great strides have been made in this revamped version of a radio talk show – especially when technology has made it easier to disseminate it and make it accessible to one's fingertips.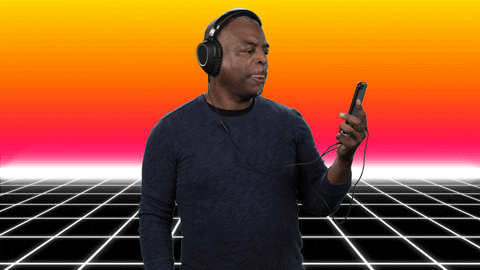 The trend for podcasting has been on a steady rise since 2018 with US listeners increasing from 44% to 57% this 2021, as presented by the latest statistics from Edison Research. But that right there is not the only interesting piece of statistic that's being unveiled here… 
Brought about by the influx of listeners, podcasts have become an effective marketing channel that drives new customers and about 75% of them are eager beavers who wish to learn something new while they're in the middle of doing something else.
Suffice it to say - podcasting has gone mainstream, with listeners finding it as a worthy media channel and podcasters considering it as an effective marketing strategy. A lot of this is attributed to how its audio output can easily be produced with minimum equipment required. However, if you choose to go down the hip and auditory path to aggregate your business into such a culture – shouldn't proper measures for preparation and dissemination be made? After all, with podcasting becoming mainstream, doesn't this entail that your competition will now be cutthroat and extraordinarily innovative? Which then brings the question – where and how can you make your stand in a battle between brands and services to grab your share of listeners?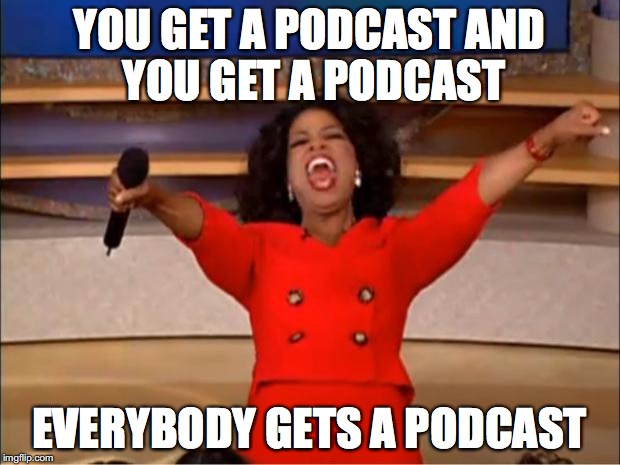 Producing a high-quality podcast
Immense efforts need to be made when putting out content and in the case of producing high-quality podcasts, even though there are many that claim they're easy to produce, a lot of thought, preparation, and quality-checking should be considered to create a successful show that will prompt people to stay tuned.
Create content that lets you stand out
The main problem of having to jump on the bandwagon is not worrying about whether you'll fit in, rather it's all about finding the means for you to stand out. This is the main issue when mediums become mainstream because competition will be tough and you got to have the resolve to create a show that offers something different than what others have already put out.
Find your genre, love your topic, know your audience, do your research, and establish your branding. Keep in mind that in whichever duration you choose for your episode to run, there should always be key takeaways because the time your listeners spend listening to your show is a time they cannot take back – MAKE. IT. WORTH. THEIR. WHILE.
Perfect your audio quality
When recording your podcast, you don't necessarily need to have that golden radio DJ voice that gives a sense of allure to its listeners. In most cases, your content, delivery, and authenticity are what truly matter when you put your show out there but that doesn't mean that you should completely forgo the practice of modulating your voice to sound like a better podcaster to your listeners. To say the least, you should be mindful of your volume, pitch, and intonation because that's how you establish your show's narrative effectively.
Unless you're able to record in a studio and have a professional sound editor, work on producing your audio outputs to the best of your ability. During the recording:
Find a place with good acoustics where you won't be disturbed mid-session.
Get solid audio equipment (within your budget) that can better capture your voice.
Always have the prompts or talking points next to you to avoid dead air.
Then when you do the actual editing:
Take out the lengthy dead airs.
Filter the outtakes.
Remove the unnecessary background noises.
Perform a quality check.
Know where to host & publish your shows on different podcast platforms
With the rise in popularity of podcasts, different kinds of hosting platforms have started to pop up and it can be difficult for you to identify which platforms to go for. But thankfully,these options can be narrowed down to these 3 that were proven to be the most reliable:
And have a look at this table from Chartable that presents the data for the most popular podcast apps for you to consider: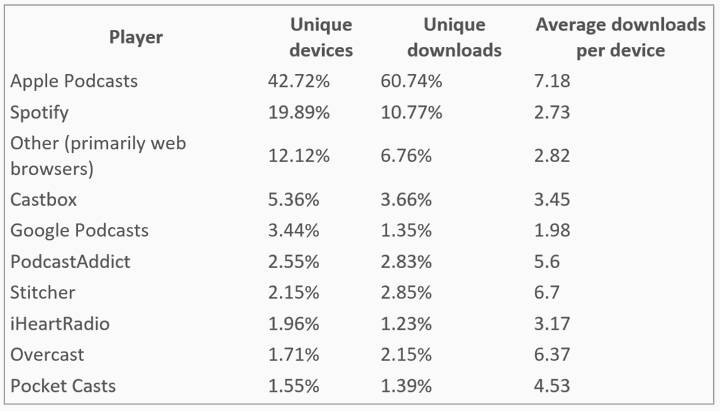 Marketing your podcast
Having to market your podcast properly in the right channels means a lot when many businesses are doing almost the same things as you are doing – emerging into the podcasting space. You must know where you can connect and get people to hear the show you've put all your efforts into.
Let everyone know about it
Whether you choose to do it actively or passively, it wouldn't hurt to let your direct connections know that you're producing your podcast show because getting into the trend sparks a conversation that triggers word-of-mouth marketing – and that's where networking usually starts!
Maximize social media channels
What's probably one of the most amazing features of social media is its capacity to interconnect. Almost all businesses exist in more than one major social media channel and for podcasting for professionals, LinkedIn and Instagram are two of the most go-to channels that work in promoting podcasts.
Put together a media kit that connects all your social media accounts and schedule timely updates or teasers to show current and interested listeners that you're active and ready to get the ball rolling. May it be an image post, a highlight snippet of an episode, or an audiogram – so long as they remain branded to your show – viewers will be able to detect your identity.
Another amazing feature that's brought about by social media is being able to find online communities where your show would be most appreciated. It gives you the avenue to interact with current followers and engage with potential audiences. You also get to a lot of opportunities to connect with individuals who can be a guest to your show, who can contribute to its growth as a whole.
Build your show's main web space
Having a main web page where all the different channels lead to would be the culmination of your show's identity because it'll be the only space that exists on the internet where there wouldn't be any competition. Everything in it is all about your show and one of the most ideal and dedicated podcast platforms out there is Simplecast with the way that it possesses all-around support for podcast management and analytics.
Emphasize community engagement through SMS & email
Apart from social media, there are other platforms that you can utilize to establish a solid connection with your community of listeners and two of the most reliable ones (proven and tested through years) are email and SMS marketing.
SMS or text messaging is a two-way form of communication that utilizes the basic purpose of technology which is the act of sending a message to one person and about 95% of them open all of the SMS they receive. When podcasters utilize this method, they have an easy avenue to create direct communication to their audience by giving them quick updates that don't require a 4G or WIFI connection.
Email marketing can be considered as basic as SMS but one of the beauties of utilizing email marketing is being able to send out branded communication to your listeners where design and incentives can come into play.
Access available opportunities through social media paid ads
Utilizing paid advertising on the internet these days have become more accurate and worthwhile. Gone are the days where you fear that the ads you post would get misplaced because social media has stepped in with its close-to-perfection technology that analyzes and matches your brand or service to the most ideal followers/consumers, as long as your campaign is set up properly.
Build your network
In the same way that businesses require comprehensive networks to establish their credibility and increase their profitability, building a network for your podcast is an opportunity for you to establish connections with other podcasters and experts who share the same space of interest as you. You can always start with those who are closest to you. Having to leverage your networks is a good starting point because these are the individuals for who you don't need to build your credibility for but they can help you expand it more to their network of connections.
Attending conferences and public events is also a way to get yourself and your podcast out there, especially when the event is aligned to the same subject matter as your show. The purpose of this is to find cultivate a network of like-minded individuals who could contribute to your growth. You're likely to meet someone who has a podcast of their own and it will be an instant connection – maybe even a partnership.
Optimize your podcast with SEO
Going into one of the technicalities in increasing the relevance of your podcast, utilizing SEOs can maximize your visibility and grow the number of listeners who would follow your every update. One that's proven to be effective is by claiming ownership of your podcast in Google Podcasts Manager that would allow your shows to be easily discoverable in Google Search and Google Podcasts.
Apart from claiming ownership of your show on Google Podcasts, you will also have to consider homing into the content you put out on your podcast's main website. Look into blog integration wherein you have a dedicated page per episode as this will allow you to rank these individual pages with the use of keywords and targeted terms.
Looking at the full scale of the preparations required to produce a business podcast, you might not be able to out rightfully say that it's straightforward. But it is doable once you truly commit to it. When the going gets tough, our team of expert podcast producers here at Salescast can help you work out the kinks – whether you're just starting or you're in it to expand your current platform. We got you covered from helping you produce high-quality episodes, to building new relationships with your ideal clients, and growing your community with impactful content – all with the end goal of driving more sales in your organization.
Want to get started? Schedule a free podcast strategy session today at https://salecast.co